I'm on tour for the next two weeks with Red Hot Dragon, the second book in my erotic paranormal Dragon Heat series!  Avani Monroe, the heroine of this novella, is an extremely successful jewelry designer so I though it would be fun to give away some cute earrings from Anthropologie and a gift card to Amazon or B&N (winner's choice.)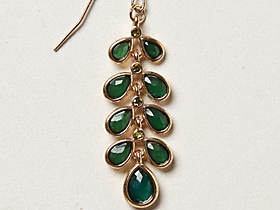 You can enter the giveaway at any of these tour stops:
Lolita Lopez's RED HOT DRAGON Book Blast – 10/7 – 10/19
10/9 Nina's Literary Escape
http://ninasliteraryescape.blogspot.com/
10/9 Mythical Books
http://mythicalbooks.blogspot.ro/
10/9 Romancing Rakes For The Love of Romance
http://romancingrakes4theluvofromance.blogspot.com/
10/10 Book Lovin' Mamas
10/10 Books-n-Kisses
10/10 Fandom Fanatic
http://fandomfanatic.blogspot.com/
10/10 We Love Kink
10/12 A_TiffyFit's Reading Corner
10/12 Celestial Reviews
http://cecesreviews.blogspot.com
10/13 Rumpled Sheets Blog
http://rumpledsheetsblog.wordpress.com/
10/14  Book Monster Reviews
http://www.bookmonsterreviews.com/
10/16 #Book Nerd
http://booknerdash.blogspot.com
10/16 Imagine a World
http://www.thegoldenruleof666.blogspot.com
10/16 Scorching Book Reviews
http://scorchingbookreviews.blogspot.com
10/16 Why I Can't Stop Reading
http://whyicantstopreading.wordpress.com
10/17 Babbling About Books and More
10/17 Salacious Reads
10/17 Taking It One Book at a Time
http://takingitonebookatatime.blogspot.com
10/17 Two Sassy Chicks
http://www.twosassychicks.wordpress.com
10/17 Wicked Readings by Tawania
http://wickedreadingsbytawania.blogspot.com
10/18 For the Love of Bookends
http://loveofbookends.blogspot.com
10/18 Manga Maniac Cafe
http://www.mangamaniaccafe.com/
10/18 Mythical Books
http://mythicalbooks.blogspot.ro/
10/19 Dalene's Book Reviews
http://dalenesbookreviews.blogspot.com/
10/19 Darkest Addictions Reviews
http://darkestaddictions.blogspot.com
10/19 Literal Hotties Naughty Book Reviews
http://literalhottiesnaughtybookreviews.blogspot.com/
10/19 Riverina Romantics
http://riverinaromantics.blogspot.com/
A DRAGON TO LOVE
Griffin Cadogan is surprised when Avani Monroe, the sworn enemy of his dragon family, walks into his gym. With his mating phase approaching, the dragon shifter wonders know why she risks coming into enemy territory. Yet the dark-eyed temptress shocks him even more with an outrageous demand: She wants him to help her have a baby.
After her mother's dragon line was annihilated by the Knights, Avani vows to continue her unique dragon breed—and the registries indicate that Griffin is the best candidate. Determined to mate, Avani plans to use her seductive beauty and powerful scent to entice Griffin. The big, strong Welsh man will make for a fitting partner . . . if he doesn't kill her first.
When they spar over the terms of her proposal, Griffin and Avani can't deny the intense, primal attraction they feel for each other. But as they become closer to creating a child, the lovers can hear danger encircle them as loud as the clapping of wings. The dragon slayers are coming . . .and they're gunning for Griffin, Avani and the entire dragon race.
Available (US/Canada only!) at Amazon, B&N, Kobo, ARe and iTunes.